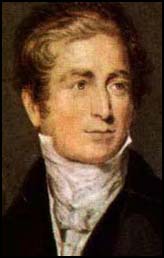 Sir Robert Peel
The evolution of law enforcement and policing in England and Wales goes back to Anglo-Saxon times. It is a complex subject, and many a website could be dedicated to that subject alone. Suffice to say that in 1829, Sir Robert Peel passed the Metropolitan Police Act, and from that time, London had its very first organised police force. One important provision of the Bill was that the police force was to wear a standard uniform, consisting of blue swallow tailed coat and blue trousers for wear during the winter period, changing to white trousers for the summer. At this time the headwear was a tall top hat. Made from beaver, strengthened with leather side pieces, with a thick leather crown. On the inside was a wire and cane strengthening ring, which gave it strength and rigidity.
1863 New style helmet trialed, based on the military 'Prussian' helmet.
1865 New style helmet adopted.
The historian or collector will come across various helmet shapes, such as the Coxcomb, the Rose top, and the Ball top. These have continued to be used until the present day. Throughout England and Wales regional preferences have remained for many years.There were several variations in materials...i.e. Luton and Salisbury had hats made from plaited straw, and during summer months, some forces such as Swansea, Southend and Peterborough wore a white coloured helmet (see photo). Senior officers helmets tended to be more ornate, with additional metal or silver fittings.
Constable Mike Gunter, Gwent Constabulary (right) and myself Constable Ross Mather, South Wales Constabulary (left) during an I.P.A. / town twinning exchange visit in Austria.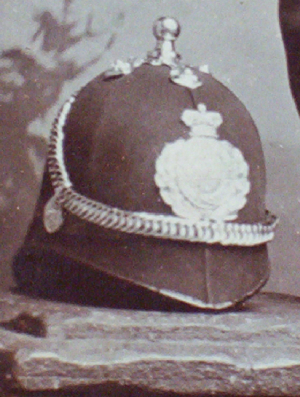 Victorian period Glamorgan Constabulary helmet
Close up photograph of the Glamorgan Constabulary helmet in the 1890's. The helmet design remained the same up until 1963, when Glamorgan changed to a rose top design helmet.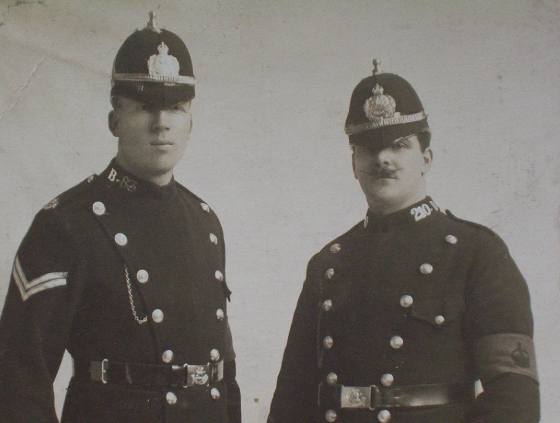 Glamorgan Constables (Pontypridd) c. 1914
ABOVE: Constable B.83 Edward Grace (joined 6.3.1909) and Constable B.210 John Evans (joined 13.4.1912). Photographed at Pontypridd about 1913 or 1914.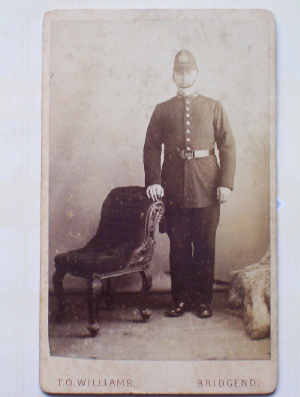 Glamorganshire Constable (Bridgend) c.1890
ABOVE: Metropolitan 'rose top' style helmet worn late 19th century by Glamorgan. Photo taken at Bridgend.
BELOW: A photograph of a Glamorgan Constable at Aberdare, showing his late 19th century uniform kepi and badge. (See example of that Victorian badge on 'Police Badges of Wales' page).
RIGHT. Victorian period c. 1895. Officers carrying a 'hangar'. This is a weapon based on the Naval cutlass. The Sergeant is wearing 2 medals - the Khedives' Star - Egypt campaign 1882 -91 and another medal which I think is the Egypt Medal - Egypt campaign 1882 -1889.
ABOVE. Group of officers one of whom at the rear far left has a 'spur' arm badge which denotes that he is also a Mounted officer. Believed to have been taken outside Pontypridd Police Station.
BELOW. A photograph I believe to be one of the Glamorgan Constabulary 'Cowbridge Sub-Division'. The Chain of Office shows the symbol for the Borough of Cowbridge. Probably taken in the 1930's.
BELOW
Neath Borough Police was a small police force
that ceased to exist after 1947.
It was amalgamated to in that year
to become 'N' Division of the
Glamorgan Constabulary.
ABOVE. A photograph of the Neath Borough Police

taken in 1925. This is probably the full

Borough force at that time.
ABOVE
Police Constable no B 22 Cardiff. 'B' Division would have him stationed at Canton or Grangetown.